C.G. Gordon Moss Lecture 2023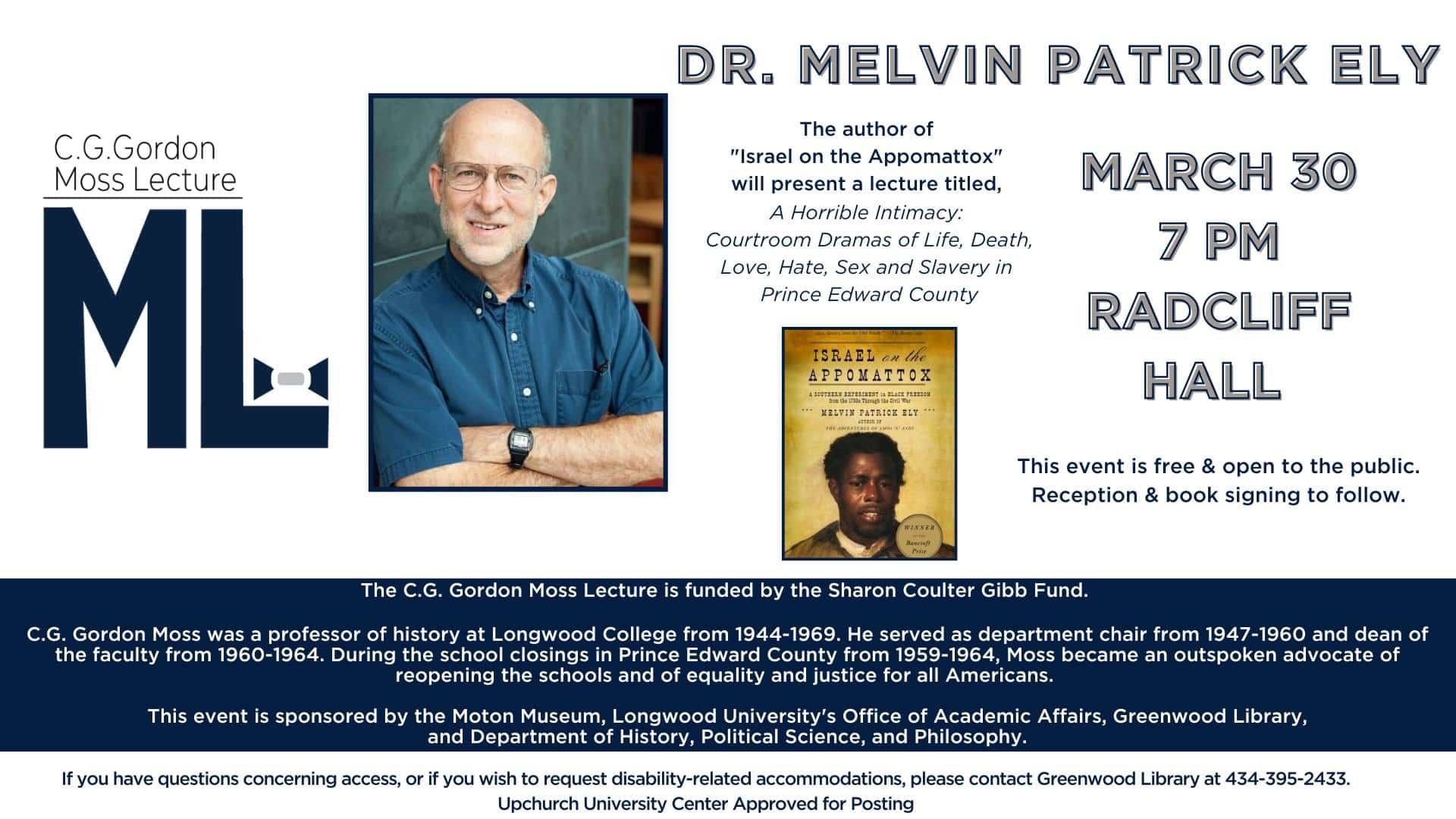 This year's Dr. C.G. Gordon Moss Lecture will feature Dr. Melvin Patrick Ely, the William R. Kenan Jr. Professor of Humanities in History at William & Mary and author of Israel on the Appomattox. Dr. Ely's talk is titled, "A Horrible Intimacy: Courtroom Dramas of Life, Death, Love, Hate, Sex and Slavery in Prince Edward County" and is scheduled for Thursday, March 30 at 7:00 p.m. in Radcliff Hall at Longwood University. It is free and open to the public. This event is sponsored by the Moton Museum, Longwood University Department of History, Political Science, & Philosophy, the Greenwood Library, and the Longwood University Office of Academic Affairs. The C.G. Gordon Moss Lecture is funded by the Sharon Coulter Gibb Fund.
ABOUT THE NAMESAKE: C.G. Gordon Moss was a professor of history at Longwood College from 1944-69. He served as department chair from 1947-60 and dean of the faculty from 1960-64. During the school closings in Prince Edward County from 1959-64, Moss became an outspoken advocate of reopening the schools and of equality and justice for all Americans. The C.G. Gordon Moss Lecture features historians who study democracy, social justice and social activism in American history.
ABOUT THE SPEAKER: Melvin Patrick Ely is the William R. Kenan Jr. Professor of Humanities and Professor of History and Africana Studies at the College of William & Mary. He has also taught at Yale University, the Hebrew University of Jerusalem, and Leiden University in The Netherlands. Both of his previous books were reviewed on the front cover of the New York Times Book Review. The second of them, Israel on the Appomattox, about free Black people of Prince Edward County before the Civil War, won the Bancroft Prize; two American Historical Association Awards, for best book in the history of the Americas and best book in African American history; and the Library of Virginia Literary Award. Ely has also received the Outstanding Faculty Award from the Commonwealth of Virginia and, from Yale University, prizes both for excellence in teaching and for distinction in research and publication. He is a native of Richmond, where he now lives.