The namesake of Moton High School and the Moton Museum, Dr. Robert Russa Moton played a lasting role in creating educational opportunities for Black Americans in the Southern United States in the decades following the Civil War. He held prominent roles in higher education and national government and philanthropic organizations, including Commandant of Cadets at Hampton Institute (now Hampton University), Principal of Tuskegee Institute and emissary of President Woodrow Wilson.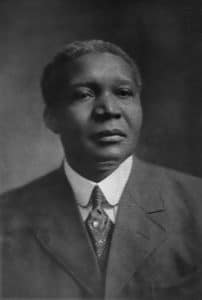 Also the namesake of numerous K-12 schools in Virginia and across the Southern and Eastern Regions of the United States, Moton was an advocate for equal treatment of Black servicemen in the U.S. military and and played a prominent role in establishing the Veterans Administration Hospital for Negros in Tuskegee, Alabama. He was born on Aug. 26, 1867 in nearby Amelia County, Va., graduated from Hampton Institute in 1890, and died at the age of 72 on May 31, 1940 in Gloucester, Va.
Moton grew up during a transformational time in the nation's history, as the Reconstruction Era's idealistic opportunities for Black Americans to enjoy full citizenship clashed with the harsh realities of legal separation and limited voting power with the adoption of Jim Crow laws in the late 1890s. Moton's family worked on a former plantation in Prince Edward County, which had 300-400 Black Americans laboring there. Moton also worked there as a waiter.
Moton's family lived in close proximity to the owner. He shared that one night the owner's wife knocked on the Moton family's door while his mother was teaching him to read. His mother scrambled to hide the book, but his father's response was, "We were free and that he would leave the Vaughns if they made any objections."
Moton stayed in this community until heading to the Hampton Agricultural and Normal School in 1885. There he trained to be a teacher with the expectation of returning home to Farmville, Va. He was asked to stay after graduation and served as Commandant of Cadets at Hampton for 25 years.
Moton engaged with the Black and Native American students at Hampton. His autobiography shares various instances of how Native students reacted to being on Hampton's campus and their perceptions of white Americans. Moton's access and conversations with Native students led him to write, "This was a new experience for a Negro, for while many of us shared this view about the inconsistencies of the white man and how he was from actually practicing his religion, we had nevertheless adapted ourselves to the white man's ways, and had, consciously or unconsciously, and sometimes anxiously, absorbed the white man's civilization."
This layered reflection addresses one of the persistent criticisms of Moton, his friend Dr. Booker T. Washington, and the industrial education at Hampton Agricultural and Normal School. The critique was the limitation of Black Americans to the spaces prescribed by white Americans. Certain Black Americans considered focusing on service and trades versus a more liberal arts training, which perpetuated Black Americans as a labor force.
This dialogue interrogated the question of what is the best strategy for Black Americans to be part of American society: An assimilationist ideology of working within the spaces deemed "proper" for Black Americans, or resisting a secondhand citizenship via demanding equal access? The persistent question within Black American history is how best to live as a full citizen post-14th amendment. The delicate balancing act of engaging and keeping access to white philanthropic dollars while advancing the race was a constant in Moton's life.
Moton became the principal at Tuskegee University in 1915 after Booker T. Washington's death. Moton had planned to retire from Hampton, but was willing to relocate to Alabama where he continued and expanded the course offerings and the campus Tuskegee. He also served as a political advisor to numerous presidents during this time. Moton was the only Black American to speak at the dedication of the Lincoln Memorial on May 30, 1922.
Moton's role as educator, political advisor, and trustee of numerous colleges and philanthropic funds reflects a career focused on racial uplift. He remained at Tuskegee until retiring to Virginia in 1935. Moton died at his home Holly Knoll on May 31, 1940 and is buried at Hampton University. Moton's legacy is his labor at the then-Hampton Institute, Tuskegee Institute, where the Tuskegee Airmen trained for WWII service at the Moton Field, and the school named for him in Farmville: the Robert Russa Moton High School, now the Robert Russa Moton Museum.
Bibliography:
"Dr. Robert Russa Moton." Tuskegee University. Accessed November 1, 2022. https://www.tuskegee.edu/discover-tu/tu-presidents/robert-russa-moton.
Heinemann, Ronald L. "Robert Russa Moton (1867–1940)." Encyclopedia Virginia, December 22, 2021. https://encyclopediavirginia.org/entries/moton-robert-russa-1867-1940/.
Moton, Robert. Finding A Way Out: An Autobiography. 1920.