Thanks to the philanthropy of Midlothian artist Elaine Bankston, the Robert Russa Moton Museum in Farmville has added a unique portrait featuring Virginia civil rights hero and attorney Oliver Hill to its collection.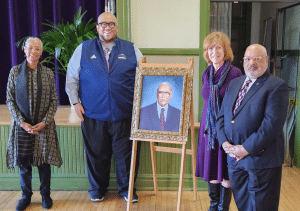 Hill's portrait, which is the fourth Bankston has painted of the Richmond native, is on display prominently within Moton Museum's self-guided walking exhibit between galleries III and IV. Moton Museum held a formal dedication ceremony for the portrait on Nov. 17, welcoming Bankston and members of Hill's family to Farmville for the unveiling.
"We are immeasurably grateful to Ms. Bankston for donating such a beautiful portrait of not only an American civil rights hero, but one who was so impactful in the Moton story," said Cainan Townsend, managing director at the Moton Museum. "The beauty and detail exhibited in the portrait is a testament to Ms. Bankston's talent and the greatness Mr. Hill continues to inspire in others, even more than a decade after his passing. We will display it proudly."
Hill dedicated his career to ending racial discrimination and was one of two attorneys, alongside Spottswood Robinson III, to file the Davis v. County School Board of Prince Edward County lawsuit in May of 1951. That case, filed on behalf of 117 Prince Edward County students seeking to integrate public schools, later became one of five cases included in the Brown v. Board of Education Supreme Court case.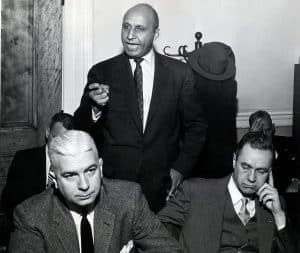 Hill's work on the Davis case was one of many causes he took up, and won, during a legal career of nearly six decades and a lifespan of a full century. An Army veteran who served during World War II, he fought for equal transportation for Black school children, voting rights, desegregation of public housing, and employment protection.
Hill was the recipient of the Presidential Medal of Freedom, the American Bar Association's Justice Thurgood Marshall Award and a number of NAACP recognitions, including the Spingarn Medal. He is the namesake of the Oliver W. Hill Building in Virginia's Capitol Square, the first state-owned building named for an African American. Hill died at the age of 100 on Aug. 5, 2007.
Bankston, who has painted more than 2,000 portraits of judges, politicians and other Virginians, donated her latest painting of Hill to the Moton Museum in November 2022. Her first three portraits of Hill reside in the Virginia Governor's Mansion and the Virginia Museum of History & Culture.