Left to Right Front Row: Cindy Hart, Bob Hamlin, Diane Hamlin, Charlie Taylor, Etta Neal | Left to Right Back Row: Sherry Swinson, Larissa Smith, Joy Cabarrus Speakes, Cameron Patterson, Melvin Nunnally, Cynthia Johnson, Sherre Atkins
Farmville, VA – January 13, 2020:
On Saturday, February 29th join us for the ninth annual Moton Community Banquet. The Moton Museum brings together all members of our community to recognize our donors and to honor our local civil rights history. This event also recognizes the culmination of our Moton Family Challenge Campaign. This annual campaign recognizes families that join together each year in a competitive spirit of unity, to support the museum.
This year we have the honor of welcoming Ken Woodley, former Editor of the Farmville Herald and author of The Road to Healing: A Civil Rights Reparations Story in Prince Edward County, Virginia as our Master of Ceremonies, entertainment from the Southside Jazz Quartet, and a keynote address from the Honorable Judge John Charles Thomas, retired Virginia Justice of the Supreme Court of Virginia.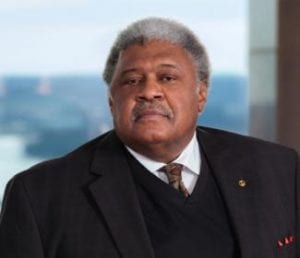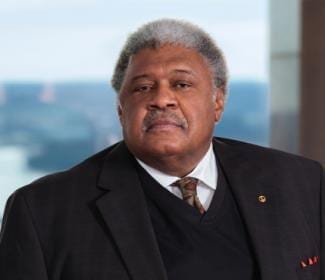 The Honorable Judge John Charles Thomas, is a senior partner at the law firm Hunton Andrews Kurth LLP, where he serves as chief of appellate practice. Thomas is also a judge of the Court of Arbitration for Sport in Lausanne, Switzerland, which handles cases involving violations of the World Anti-Doping Code for all Olympic Sports, the Tour de France, FIFA, and LPGA. Judge Thomas holds the distinction of being the first black and at 32 the youngest justice appointed to Virginia's highest court by former Virginia Governor Charles Robb in 1983. Thomas was educated at the University of Virginia, where he graduated with distinction in 1972. He earned his J.D. from UVA Law in 1975.
Judge Thomas has taught Appellate Practice at the University of Virginia School of Law, served as a Jurist in Residence at Gonzaga University, and been a recipient of the NAACP's Lifetime Image Award, and been a Vision Speaker at James Madison University.
————————–
Thank you to all who attended the ninth annual Moton Community Banquet. We look forward to seeing you again next year!